Online Sales Funnels for Small Business with Nate Smith

Online Sales Funnels for Small Business with Nate Smith
Online Sales Funnels with Nate Smith, a business owner and online marketing expert. He shares stories from his start as a professional musician and transitioning to entrepreneurship. He also shares his knowledge on creating successful online sales marketing funnels to help you grow your small business.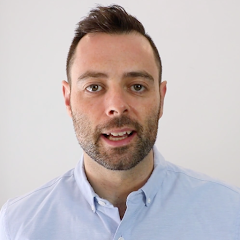 Nate is an entrepreneur and professional musician. He is the founder and owner of 80/20 Marketing Guy, which helps businesses earn more money through email marketing and funnel optimization.
Nate believes there are only 3 ways to grow your business: get more traffic, get more of your traffic to buy, and get each one to spend more money. He helps entrepreneurs build automated cash flows by optimizing all 3.
Resources:
Books mentioned in this episode:
[We receive commissions for purchases made through these links (more info)].
Related episodes of The How of Business Podcast – the podcast to help you start, run and grow your small business:
Highlights from this episode:
Nate Smith on using email auto-responders as part of your online marketing funnel:
"…how much of the heavy lifting are your auto responders doing? Because one model I see that works really well is a pretty lengthy auto-responder [using a small business email marketing platform like ChimpMail or Constant Contact] that has between one and two offers in it. So just for instance, the first week of the auto-responder might be delivering the content and making good on the promise of the lead magnet. And then there might be a week of transitional emails that really define the problem and position you as the solution and the only solution and then earn people's trust with some proof. And then maybe week three would be an offer with some scarcity… And maybe for the people who don't buy, after week three, you have some more valuable content, like a one to two week nurture, sequence, and then possibly another opportunity to buy so that by the time you're sending those live, broadcast emails with your content, maybe you're sending them once or twice a quarter. But you've got your auto-responders doing most of the work for you, including things like re-engagement sequences, where if people haven't opened your email for a while, you give them a binary choice, do you want to continue to receive my emails? And maybe you give them some kind of compelling offer to click on, which then launches them back into a sales offer? So that would be my first question is just, is it possible to have your auto-responders take up more of the slack so that it can alleviate some of the burden for always having to pump out content."