Colby Williams – Small-Town Business
Episode Description:
In this episode we interview Colby Williams, a small business owner and the founder of Parengo Coffee in a small town in Missouri. We chat about launching and building a coffee shop (Parengo) and then we (23:45) discuss the topic of his book "Small Town Big Money", which is about the opportunities which exist in small towns for small business.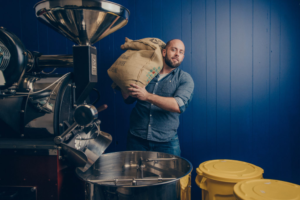 Colby founded Parengo Coffee in Sikeston, Missouri with his parents in 2013. They have won several awards for coffee roasting and for entrepreneurship, including a 2015 Fellowship which he received with the Delta Entrepreneurship Network from a pitch competition.
His time with the other fellows gave him the idea for his book, "Small Town Big Money". The book is about entrepreneurship in small towns and how smaller communities are changing to intentionally attract entrepreneurs.
Colby is the Vice President of Historic Downtown Sikeston, which is their neighborhood revitalization and economic development organization, and he works with several agencies to mentor other entrepreneurs. He also writes a column about entrepreneurship for B Magazine (bmagazine.io) out of Cape Girardeau.
Resources:
Books mentioned in this episode:
[We receive commissions for purchases made through these links (more info)].