DeAndre Wilson – Launching a Food Business
Episode Description:
Launching a catering business with DeAndre Wilson. DeAndre is a young entrepreneur and the co-founder of Turn Table – a catering business serving the Evansville, Indiana area. DeAndre and his partner Chef Jeff started developing their business while they were both in college. He shares the need to be emotionally prepared for the challenges of entrepreneurship, and the value of a solid business plan.
[Learn more about DeAndre Wilson]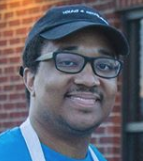 DeAndre is a young entrepreneur and the co-founder of a catering business – Turn Table.
As a college student DeAndre, along with his business partner, Chef Jeff, began conceptualizing and charting a roadmap for an innovative catering model and dynamic brand. The Turn Table brand is regionally recognized for remixing and remastering recipes to create visually enticing cuisine with distinctive flavor.
DeAndre strives to be a change agent by developing more inclusive, and accessible channels for entrepreneurs to get necessary resources, mentoring and support for long term success in his region. He earned a degree in Hospitality Administration and participates in formal programs and courses in small business development and entrepreneurship. DeAndre was recently selected by the Southwest Indiana Chapter of SCORE to be a small business mentor, and regularly speaks to students and early stage entrepreneurs about his business start-up experiences.
DeAndre lives in Evansville, Indiana.