Husband & Wife Entrepreneurs Barry & Catherine Cohen
Husband & Wife Entrepreneurs Barry & Catherine Cohen
How the Husband & Wife Entrepreneur team of Barry & Catherine Cohen make successfully work together in their small business. Their first joint venture was a barter exchange business, and they now have other successful small businesses and their own podcast show.
[Learn more about Barry and Catherine]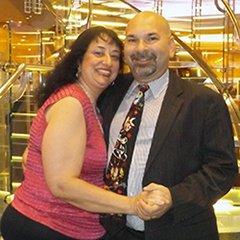 Having fun while running a business has been the motto of Barry and Catherine since they opened their first business together in 2003. After hearing for the millionth time how "you two really need your own show, you're so funny," Catherine and Barry learned about podcasting and it all came together perfectly. Together 24/7 is a fun and informative podcast show interviewing other crazy couples that are in business together.
Barry Cohen is the computer guy, always has been, always will be. He has been in the computer industry for over 30 years, repairing, building and maintaining all kinds of systems. Currently, in his position as COO of the company he and Catherine own together, Barry takes care of day-to-day software issues, customer issues with the software and even throws in some hardware help for his software clients. He also continues to repair and build computers.
Catherine Cohen is the people person. She started life working in her parents' shoe store, taking care of customers, helping with inventory, and she even started networking as a teen. From being a lifeguard and swim instructor to being the software trainer in their current company, Catherine enjoys creating curriculum, teaching, and learning. She has also always been the sales person in their businesses.
Notes from this episodes of The How of Business podcast:
Barry and Catherine share their story of entrepreneurship and how they started their first businesses after working in the corporate world.
Their first joint venture was a barter exchange business.
They sold their barter exchange business, and then developed a barter exchange software business.
They share the process they went through to sell their small business.
"You gotta know your strengths, you gotta know your weaknesses." They share tips and advice for working well together as a team.
Persistence and Networking are two keys to their success as small business owners.
"The most important thing you can do in your business is to have fun!"
Resources:
Books mentioned in this episode:
[We receive commissions for purchases made through these links (more info)].
Other Podcast Episodes:
You can find other episodes of The How of Business podcast, the best small business podcast, on our Archives page.